Thinking about raising backyard chickens, but not sure what to expect during the cold winter months? I'm sharing everything you need to know about raising backyard chickens in winter to make sure you flock stays happy and healthy.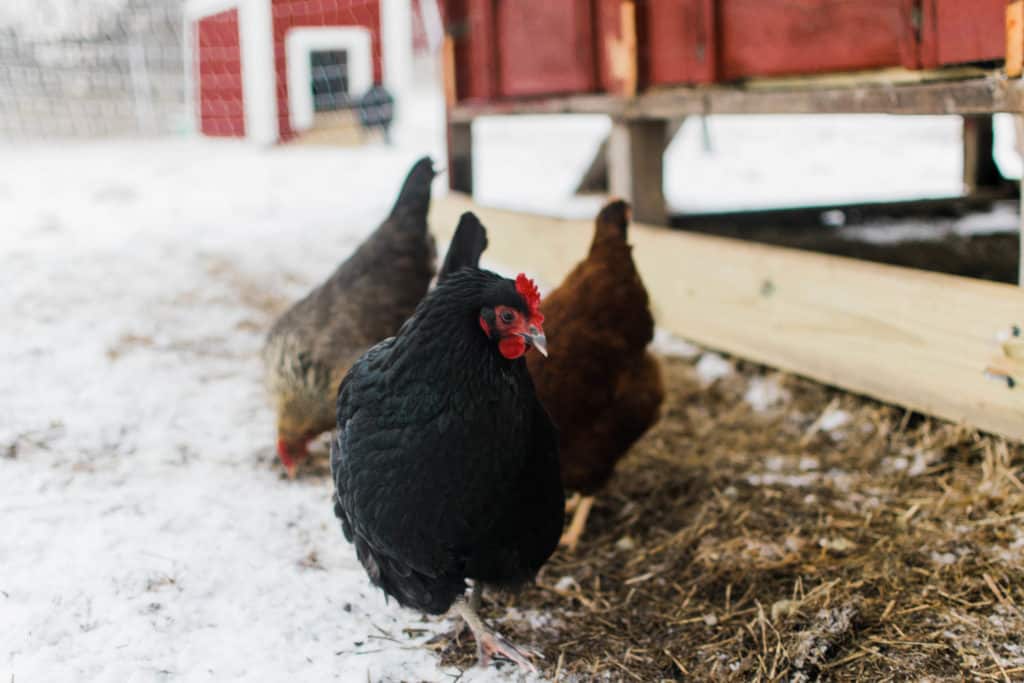 Raising backyard chickens in winter: the myths
Raising backyard chickens is becoming trendier, and I'm kinda loving it. More suburbanites are adding a few chickens to their backyard in an effort to produce their own eggs and to know exactly where their food comes from, and that's a pretty incredible thing.
Even though backyard poultry is becoming more common in the city and suburbs, there's a huge misconception about raising backyard chickens in winter. Last year, I remember talking to another Chicagoan who said that her sister had chickens, but she brought them inside the house during the winter and ultimately re-homed them due to the cold. What?! Not only is that unnecessary, but that information is completely false. Rather than perpetuating myths and potentially deterring people from raising chickens in the first place, let's get some things straight about raising backyard chickens in winter.
Research chicken breeds
First of all, if you live in a cold weather climate, then be sure to choose chickens breeds that excel in cold weather. Generally speaking, chickens are extremely hardy, but be sure to do your research when choosing a chicken breed. My Pet Chicken has a wonderful breed selection tool that matches you with chicken breeds that meet specific characteristics, including hardiness to cold/warm weather, egg production, egg color, etc. You can read about our favorite chicken breeds here!
Need a winter proof coop
In order to ensure that your flock stays protected against extreme cold temperatures, be sure to have a winter proof coop. All windows and doors should be fully sealed, and your coop should NOT have any wind or drafts. We enclose windows with hardware cloth for protector protection, and then add a plexiglass covering over the windows. (if applicable) Simply remove the plexiglass for extra ventilation during warmer months.

Rarely need supplemental heat
If you're raising backyard chickens in winter, then don't forget that chickens are hardy birds. If you have a winter proof coop, then your flock will rarely require supplemental heat. Chickens are pretty incredible and anticipate when the seasons change. Chickens will generally molt, or lose their feathers and regrow fuller feathers, to stay warm during the cold winter months.
During frigid weather conditions, our flock simply chooses to stay inside the coop. Occasionally, we will choose to lock our flock in the coop during the day to seal in extra heat. If the weather is extremely cold, then we use the Cozy Coop rather than a heat lamp to reduce the likelihood of a fire. I strongly advise against using a heat lamp, as the risk for fire is extremely dangerous.
Egg production will go down
Shorter days and colder weather generally means one thing when raising backyard chickens in winter- reduced egg production. Some people add supplemental light and heat to amp up egg production, but we personally have decided against this option. Chickens are born with a finite number of eggs. Adding supplemental light and heat simply makes your flock lay their eggs quicker AND stop laying their eggs quicker. We're thankful for any and all eggs that we receive, and have no intention of rushing the process.
Food + water changes
It may seem obvious, but if you're raising backyard chickens in winter, then don't forget to purchase a heated water bucket for your chickens! Traditional water buckets will quickly freeze, leading to dehydration in your flock. You may also notice that your chickens consumes more feed during the winter months because less bugs are available.
Check for frostbite
Although we have not personally experienced frost bite in our flock, chickens can experience frostbite in extremely cold weather conditions. When raising backyard chickens in winter, be sure to frequently check the health of your flock.