Thinking adding goats to your homestead, but you're not sure where to start? I'm sharing tips for buying your first goat in this post! *This post is part of a 2 post series. Part 2 will cover beginner tips for raising goats*
Tips for buying your first goat
Soon after Ben and I decided to add goats to our homestead, we started researching tips for buying a goat for the first time. We weren't sure where to purchase our goats, and seeing as we don't live in a super rural area, we assumed that we would need to travel at least an hour+ to find a reputable breeder. Our search started on good old fashioned Google. Ben found the breeders, and I sent out countless inquiring emails.
Fast forward a few months and we finally found a breeder that we felt comfortable with. Wondering about the whole process of buying your first goat? I'm sharing tips for buying your first goat below!
Goats need a buddy
The most important tip for buying your first goat is to remember that goats need a buddy! You CANNOT purchase only one goat. Goats are herd animals, so they absolutely need at least one other GOAT buddy. Chickens and other livestock do not count. If you're planning to raise goats, then you need at least 2 goats. (But having more than 2 goats just makes homesteading more fun, doesn't it?!)
If you find a breeder that is willing to sell you a single goat (and he/she knows that you do not have any other goats on your homestead), then I would strongly advise against purchasing a goat from that breeder. Reputable breeders want the best for their goats, and raising a single goat is simply poor (and cruel) practice.
Does/doelings, wethers, bucks/bucklings
You've officially decided to start the process of buying your first goat, but exactly what should you purchase? If you're new to raising goats, then it's easy to feel overwhelmed (and confused!) by all of the terminology. Here's a cheat sheet:
Kid: baby goat
Doeling: female baby goat – under 1 year of age
Doe: female goat
Buckling: male baby goat – under 1 year of age
Buck: male goat
Wether – castrated male
Deciding what to buy
Before deciding exactly what type of goat you want to purchase, you'll need to identify your goals. If you're purchasing goats simply for pets, then I would recommend does/doelings and/or wethers. Generally speaking, if you are not planning to use a male goat for breeding, then you will want to castrate him (he'll now be called a wether) because he will be very stinky (and bucky!) if not castrated.
If you're buying your first goat because you're dreaming about fresh goat milk, then you'll need to breed your goat(s) first. You have a few options:
buy a doe in milk (learning how to milk a goat for the first time is really hard, so this is not advised unless you also purchase the kid(s).
buy a pregnant doe (we pursued this option, but be sure to ask why the farm is selling that particular doe. Generally speaking, farms aren't going to sell their best milker.)
buy 2+ babies (any combination of doelings + wethers will work, but you'll need to find a reputable farm that will allow you to breed your does)
buy 2+ adults (any combination of does + wethers will work, but you'll still need to find somewhere for breeding your does – you'll also want to ask WHY the farm is selling their doe – was she already bred and was she a poor milk producer?)
breed the goats on your farm – remember, unless you want to have oopsie babies, bucks and does need to be separated. At a bare minimum, you'll need:
BOYS: 1 buckling or buck + 1 wether (bucks are stinky, so if you have a small farm and your goats aren't genetically related, then you only need 1 buck for breeding (the wether will keep him company)
GIRLS: 2 doelings or does
Buy from a reputable breeder
If you're reading about tips for buying your first goat, then you're probably wondering where to purchase your goats.  I would recommend doing a Google search to find goat breeders in your area. Depending our your geographic location, you may need to travel a few hours to find a reputable breeder. DO NOT simply purchase the cheapest goats that you can find. If someone is selling a goat(s) for a super low price tag, that's a big warning sign in my opinion. A good deal is usually too good to be true, and will probably come with a whole host of problems.
If you are unable to find a reputable breeder from a Google search, then join Facebook groups dedicated to raising goats located in your area. Often times, local breeders will list their available goats on Facebook groups and link to their website. This is a great way to scope the breeder out.
Craigslist is another option, but as always, be cautious. During our initial search, we found a small organic homestead on Craigslist. They were selling their goals (and other animals) simply because they were relocating and were unable to bring their animals with. Due to timing constraints, we did not pursue this option. With that being said, Craiglist can be a decent option for buying your first goat, but do your research so you know what you're getting.
Ask the breeder questions
When discussing tips for buying your first goat, don't forget to ask prospective breeders questions! Any reputable breeder should not have a problem answering your questions. If someone is unable to provide a clear response, then keep on looking for a new breeder! The below list is not exhaustive, but can be used as a starting point for conversation with the breeder.
What is the disease status of the herd?
Does the farm complete annual testing? If yes, what diseases does the farm test for? What were the test results? A biosecurity test is standard in our area (CL, Johne's, CAE.) Illinois is a certified TB-free and brucellosis-free state, so we do not test for those diseases. Depending on your geographic location, you might need to add those to your list.
Is the goat registered?
If a baby – dam raised or bottle fed?
Horn status: disbudded (de-horned), horned, or polled?
If you're planning to milk, then you'll want to ask questions about the particular genetics of the goat.
If the goat is an adult, then why are they selling?  (Generally speaking, farms aren't going to sell their best milker or favorite buck.)
The vaccine debate is a hot topic, so I won't go into detail. With that being said, it's a good idea to know if (and what) your goat has been vaccinated against.
Was the goat dewormed prior to you picking him/her up? If so, does the farm use chemical or herbal dewormers?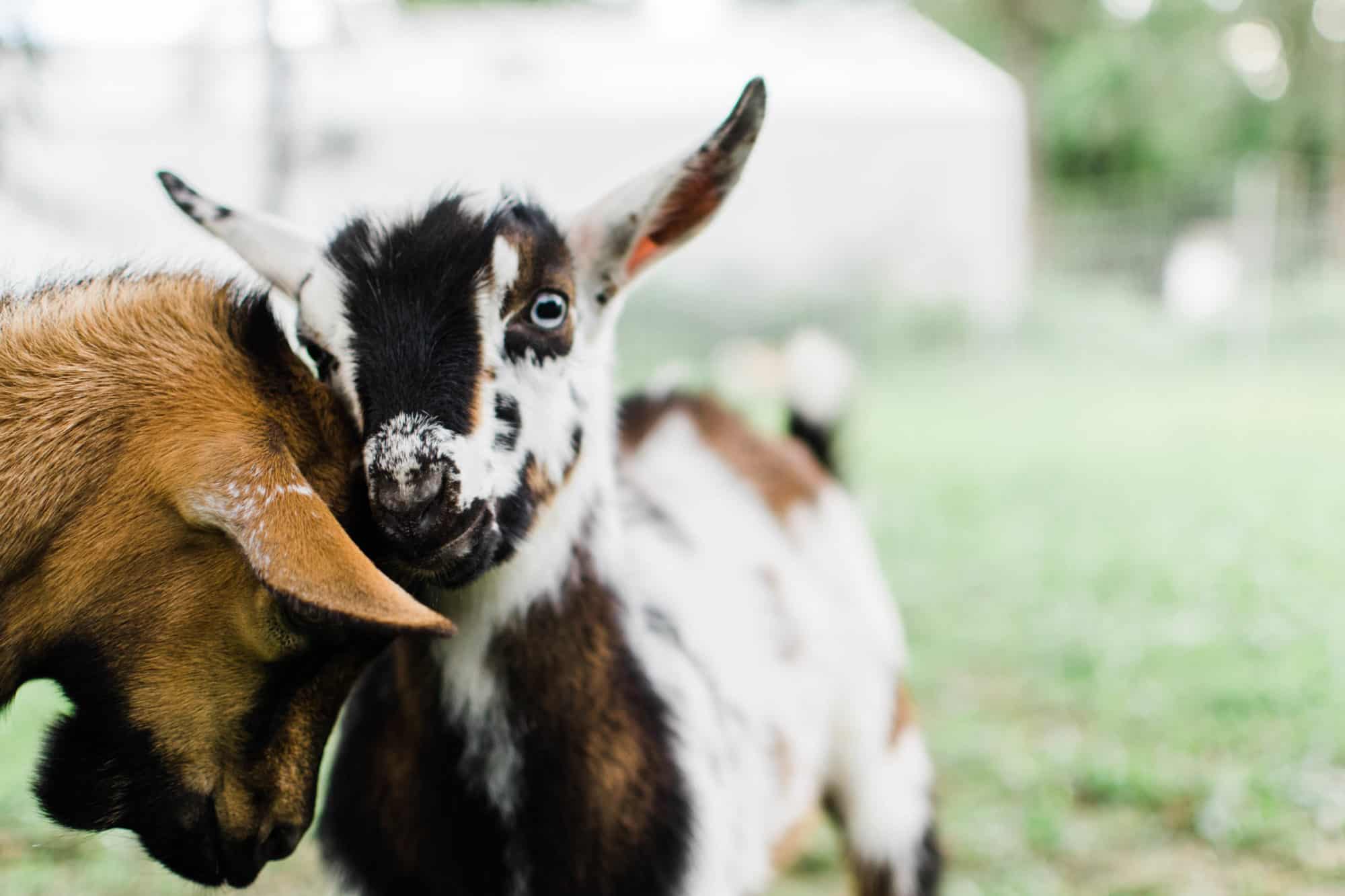 WOAH, I didn't realize how long this post would be! Do you have any other tips for buying your first goat? 
Chicagoland friends – if you're looking for a reputable breeder, then I would be happy to share the ones we have used so far! (We've used 3 breeders over the last year+ of raising goats, and they have been wonderful. We will also be breeding our 3 does this fall and  selling babies in the Spring.)