I'm SO excited to share our lifestyle photography session with RMP!
Every time we harvest honey, I post on a local Facebook group to sell the excess. The local mamas in our area are so supportive, and it's always fun to connect with our community a bit more. A few months ago, Ashley reached out to me about purchasing some honey from our homestead. When I clicked on her profile, I noticed that she owned RMP and she took the most stunning photos. As I scrolled through her portfolio, I was literally in awe. After exchanging a few messages back and forth, we decided to collaborate together. Best. Decision. Ever. I'm so excited to share all of the details about our lifestyle photography session with Red Maple Photography!
Meeting with Red Maple Photography
You know when you immediately click with someone? Well friends, that's how I felt when I met Ashley for the first time. Not only is she ridiculously talented, but her enthusiasm and passion for photography is contagious. Within seconds of Ashley arriving at our house, I knew that our photos would turn out incredible.  As a mama to three little boys, Ashley went out of her way to make sure that both of our little ones were happy and comfortable. At one point during our session, Finely kept picking up chickens and placing them on Ashley's lap. Ashley was not one bit fazed. She literally got down in the dirt, held a chicken, and continued to capture the most amazing pictures.
Like this photo. This photo makes my heart so happy. Moments like these remind me that our homestead is allowing us to create the most incredible family memories.
Lifestyle photography session with Red Maple Photography
Truly talented photographers have the ability to freeze a moment in time while telling a story. And that's exactly the type of photographer Ashley is. Rather than styling unnatural family photos, Ashley encouraged us to just be ourselves. As we went through our nightly farm chores, Ashley snapped away in the background. Even thought our session mimicked a normal evening on the farm, Ashley captured it in the most beautiful way possible.
Between collecting eggs together.
To picking up chickens and feeding them snacks.
Giving our goats (and babies) some extra snuggles.
And going on a wagon ride together on the farm.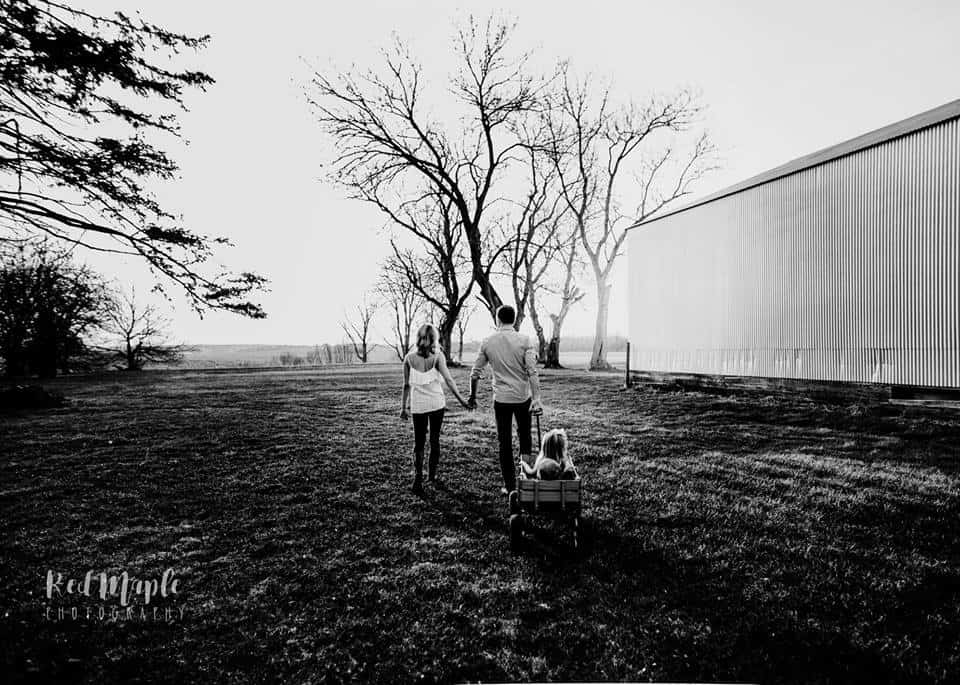 Every time I look at the photos from our session with Red Maple Photography, I'm amazed by the way Ashley transformed  dirty farm chores into something so beautifully perfect.
Family photos
As I scrolled through our photos, each photo was better than the next. It's literally impossible for me to pick my favorite, but I absolutely love the way Ashley captured our family on the porch. As usual, our naughty frenchies acted insane,  but Ashley wasn't one bit bothered. She has the ability to capture the chaos of life in the most authentic way possible.
Between dogs wresting on the couch to snuggling our babies – Ashley captured each and every moment perfectly.
…and baby goats
Family photos wouldn't be complete without bringing our baby goats onto the porch! Finley had a blast holding her goats like a baby, while I remained somewhat terrified that she would squeeze them just a bit too hard. Ashley captured these memories beautifully.
Red Maple Photography
If you're looking for a Chicagoland photographer, then contact Ashley at Red Maple Photography ASAP. Ashley specializes in lifestyle newborn, maternity, and family sessions in the Northwest and Western Chicago suburbs. She captures "beautiful, real, messy, crazy, joyful, perfect little moments." To be perfectly honest, that statement is exactly what makes me love Ashley so much.
Our lifestyle family session at the farm wasn't meant to be perfect. It wasn't perfectly styled or artificially posed. Life with 2 frenchies, 2 little ones, 5 goats, and 20 chickens is messy. Really messy. But isn't that the best part? Memories are made during the messy parts of life. Ashley's photography proves just that.
Ashley embraced those perfectly imperfect little moments. Her photography captures the beauty within the chaos and craziness of life; and for that, I'm so grateful. 
I hope Ashley loves our little family just as much as we love RMP. We can't wait to work with her again!