I may hate the snow, but I'm sure digging Christmas decor this year.
To be honest, I've never been one to put much thought or effort into decorating for Christmas. But then I had kids, and everything changed. Now that Finley is getting older (excuse me while I go cry in a corner), she's been showing such excitement over all things Christmas. I'm so excited to start new traditions together as a family – taking out the tree, blasting Christmas music, drinking hot cocoa, and decorating the house. Most of our decor is in the main living space, but I also love the idea of holiday bedroom decor. Below includes some of my favorite farmhouse Christmas decorating ideas for the master bedroom.
And don't worry – our little one also got to redecorate her room for the holidays!
White bedding
We recently swapped out our bedding for an all white duvet cover. I'm obsessed, and I'm not sure if I'll ever use our other duvet covers again. Okay, I probably will, but I'm really loving all white bedding these days. Not only does our new white duvet make our small master bedroom appear a bit bigger, but it's also the perfect blank canvas to play around with farmhouse Christmas decorating ideas.
(Similar duvet cover is here)
Cozy Pillows
These gingham pillows have gotten so much use over the past few months. I scored the covers on sale at Pottery Barn for less than 10 bucks over Labor Day weekend. best. purchase. ever. These pillows are constantly finding a new home – on the couch, on a chair, or on our bed. (sold out in black, but blue is available here)
And the sweet reindeer pillow? My mother-in-law recently scored it at HomeGoods.
Frenchies, obvi
And is there anything better than a french bulldog that perfectly matches your bedding and Christmas pillows?  NOPE.
Wreath
I was tempted to swap out our Magnolia wreath for a Christmas wreath this year, but I'm glad I kept it. It feels a bit festive while still remaining classic. I think Marvin approves of the decision.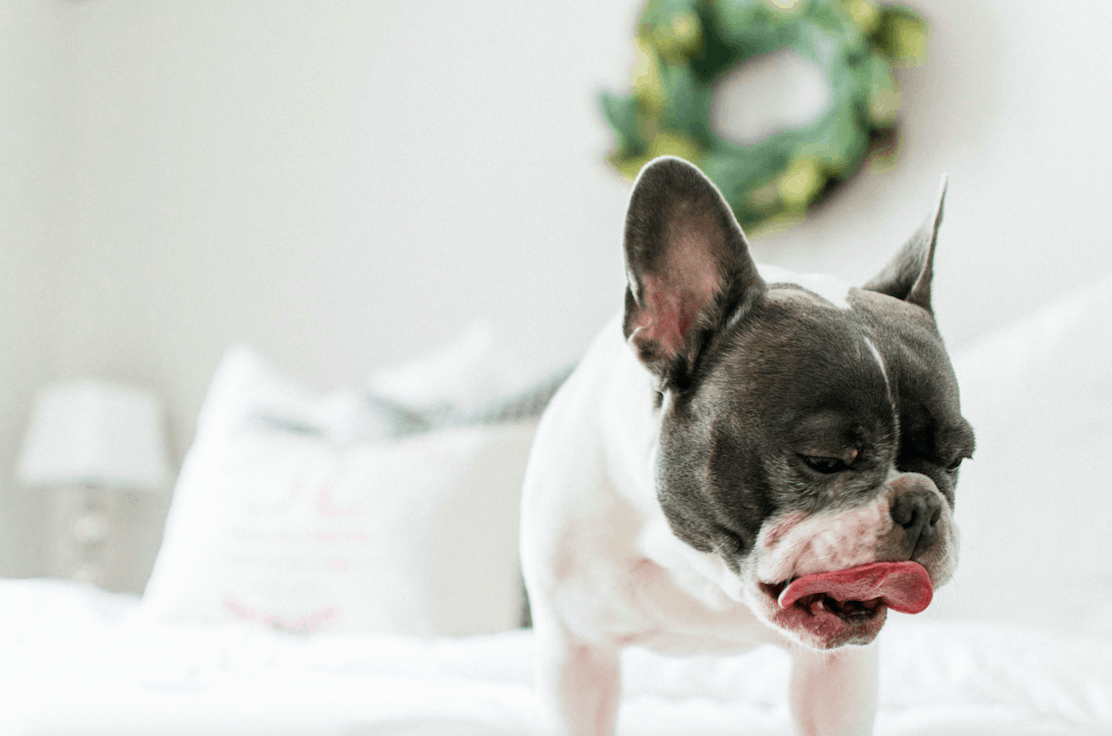 Target Finds
I added a few simple Target finds on our antique dresser. I'm not a huge fan of over-the-top (or expensive) Christmas decor. I love that these mini trees and mini houses add a subtle Christmas feel. Best part? Each Christmas decor item was under 5 bucks. #winning.
Mini trees
Speaking of mini trees  – I snagged a couple of these darling mini Christmas trees over the weekend. I'm loving the burlap skirt, and it's the perfect size to put pretty much anywhere. I'm constantly moving this little tree around the house. I love how the tree looks sitting on top of the window sill in our master bedroom. And those farm views? Just a bonus 😉
Similar mini tree can be found here!
Modern farmhouse Christmas decorating ideas: questions
Do you decorate your bedroom for the holidays? Let me know in the comments below!