Welcome to Frenchie Farm! If you're looking for a modern homesteading blog, then you're in the right place.
I'm Colleen – a former city girl and Child Therapist turned regenerative farmer and farm class educator.  My husband, Ben, and I are self-taught farmers residing in the Chicago suburbs. In an effort to live a more simplified life with intention and gratitude, our family made the decision to pursue modern homesteading. We grow and raise as much of our own food as possible while raising dairy goats, chickens, ducks, Highland Cattle, and Great Pyrenees. 
…and Frenchies!
Moving to the farm 
When Ben asked me to move to his family farm, I thought he was crazy. I lived in Chicago for 5+ years, and I still wasn't totally on board with suburban living, let alone living on a farm. Somehow my persuasive hubby convinced me that it was a good idea, and I'm so glad that he did. We remodeled his grandparents' old house into the farmhouse of our dreams.
Ben works for the family construction company as a Project Manager/Sales Manager and completely remodeled our current farmhouse. His background will allow him to transform our overgrown backyard into a small modern homestead while sharing tips/tricks along the way. Although I work in marketing for our company, the best job is being a mama to my toddler and baby boy.
Our little farmhouse is a work in progress. We're constantly planning for the next step! We will be sharing various DIY projects along with some larger scale projects as well. We've fallen in love with modern homesteading and farmhouse living. We hope you will too.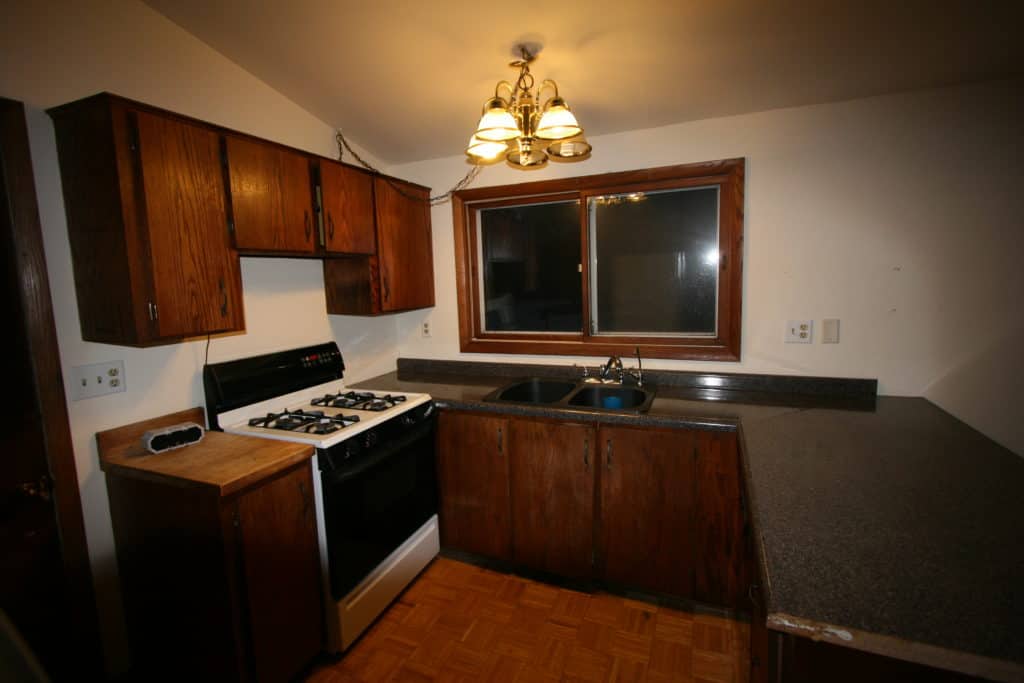 Frenchie Farm – the backstory 
We have a somewhat unhealthy obsession with our two french bulldogs, Henry and Marvin.  Frenchies are a pretty tricky breed – they have terrible seasonal and food allergies, which has led to health problems and thousands of dollars in veterinary bills. After Henry was diagnosed with a Methicillin-Resistant Staphylococcus Pseudintermedius (MRSP) skin infection that covered most of his body, we decided that we needed to completely overhaul both of their diets. We started visiting a holistic vet, focused on gut healing, and began making our own raw food. We're on a mission to heal our pups from allergies, and one way of achieving this goal is through knowing where our food comes from, which leads us to the Frenchie Farm….
Our modern homesteading blog story:  farm animals
Since moving to the farm, Ben and I have been joking that we're slowly becoming that "weird" family – you know, those weird crunchy granola hippies who talk about gut healing and insist on knowing where their food comes from. Well, I think it's safe to say that we've dove head first into the "really weird" category once we decided to get goats and chickens. Who needs to buy highly processed food from questionable sources when you can grow your own veggies/fruit, collect your own eggs from happy, free range chickens, and milk your own goats?
Chickens
Our initial plan was to start slow by getting a few chickens. Ben wanted to start with a conservative six chickens, but I pushed for fifteen chickens (why fifteen? I'm not really sure, it sounded like a good number at the time.) We met in the middle and decided to start our little backyard farm with 10 baby chicks. We immediately placed the order for 10 baby chicks that night. And then purchased another 10 within a few months…!
Baby chicks  make a frequent appearance in this modern homesteading blog.
Goats 
A few minutes after we placed the order for our baby chicks, I started dreaming of adding goats to our backyard farm. I figured that if we're going to start a backyard farm, we might as well "go big or go home", right? Ben immediately shot that idea down, but I somehow persuaded him that we needed goats ASAP. We started visiting local farms and put down on a deposit with a local breeder for Penny and Lucy.
It was love at first sight. Goats are the sweetest animals ever (aside from our frenchies, of course.)
At least Ben can build things 
We (and by we, I mean Ben) converted an old, falling apart shed into a  goat house and chicken coop.He also fenced the yard within just a few short weeks. Ben is the brains behind this whole operation. His attention to detail and ability to transform old structures into something new and beautiful is amazing.
Growing our own food 
In an effort to know exactly where our food comes from, we will be planting a 600 square foot garden in the spring. Our garden lineup last year year included sweet corn, summer squash, zucchini, butternut squash, poblano peppers, sweet peppers, banana peppers, tomatoes, pumpkins, watermelon, canteloupe, broccoli, carrots, kale, lettuce, arugula, onions,  and radishes.  Our little Frenchie Farm also includes an apple orchard, newly planted blueberry bushes, and fig trees. At Frenchie Farm, we share tips and tricks for modern homesteading and living a healthy lifestyle.
Food allergies
Our frenchies aren't the only ones with food allergies at this modern homesteading blog. I'm unable to tolerate cow's milk, and Finley has a suspected allergy to cow's milk and soy. I also have a long family history of autoimmune diseases, so what better way to improve our overall health than by raising goats, chickens, and bees while also growing our own fruits/veggies?
Thank you so much for stopping by Frenchie Farm, we're so happy to have you! We hope you find inspiration at our modern homesteading blog.