Thinking about getting a livestock guardian dog on your farm? I'm sharing LGD training tips in this post.
Getting a livestock guardian dog + LGD training tips
When we decided to move to a property with more land, getting a livestock guardian dog was a major priority. We live in a coyote dense area, and I knew that more property would inevitably lead to more predators. Within a few short weeks of moving, I frequently found a coyote lurking behind the chicken coop in our back pasture during morning chores. To make matters worse, the amount of coyote tracks found throughout the farm after a snowfall was ridiculous.
We clearly needed an LGD (or two!) to protect our livestock. If you're feeling uneasy about the predator situation on your homestead, then it might be the perfect time for getting a livestock guardian dog. Check out my LGD training tips below.
I think it's time to officially introduce the two LGD's of Frenchie Farm – Leroy & Otis!
Research breeders + choose breed
When getting a livestock guardian dog, be sure to adequately research breeders. If a breeder is unwilling to answer your questions (and you should have A LOT of questions!), then move on. If possible, read reviews from previous customers to learn from their personal experiences.
Different breeds of LGD's exist – Great Pyrenees, Anatolian Shepherd, Maremma Sheepdog, Akbash, and Kangall Shepherd Dogs are a few popular breeds. LGD's are specifically bred to protect livestock, so be sure to stick with one of the many LGD breeds. When we decided to get a livestock guardian dog, we chose the Great Pyrenees breed because they are known to be excellent protectors yet still social.
When getting a livestock guardian dog, be sure to consider the breed temperament. Although we wanted our dogs to protect, we also want them to be trustworthy and friendly with young kids and adults, which was extremely important for our family.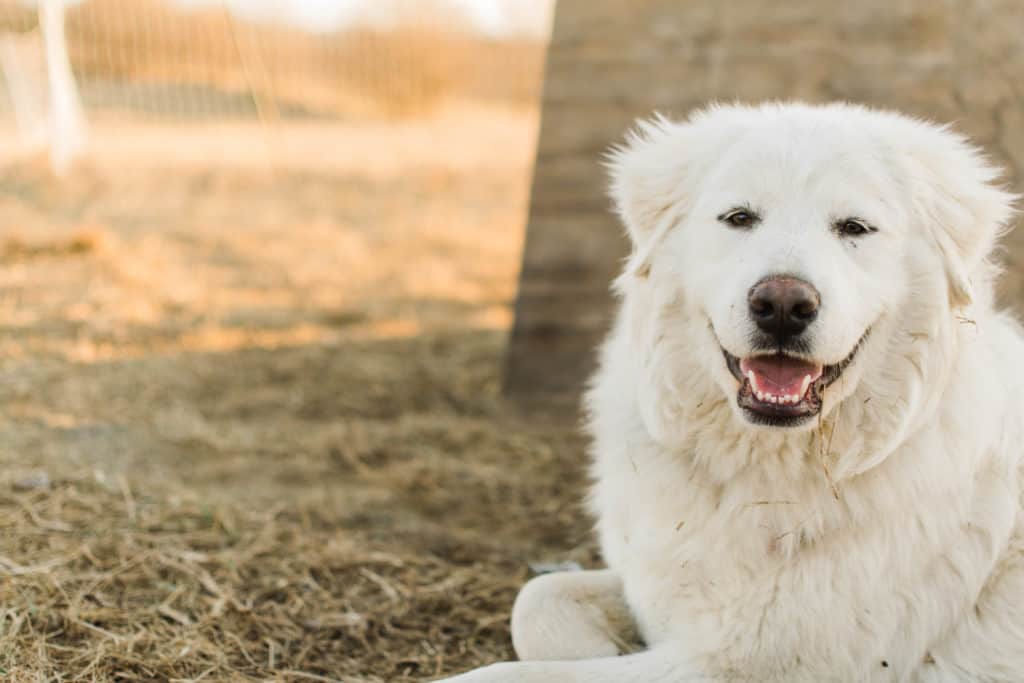 Raised on a farm
If you are getting a livestock guardian dog to protect your livestock, then the dog MUST be raised on a working farm. This might be one the most important LGD tips! DO NOT purchase an LGD raised inside the home – the pup must be raised on a working farm to increase the chances of success. What does a "working farm" really mean though, anyway? That's where it's a bit of a gray area. Although our two Great Pyrenees were raised outdoors with working parents, they were raised in a pen NEXT to goats. Being raised next to livestock is not the same as being raised with livestock. Make sense? Looking back, I should have clarified this topic with the breeder.
That doesn't mean that the LGD should have free access to livestock at all times. Quite the contrary. Puppies require constant monitoring and training, so they will still likely live in a separate pen until they are full trained. However, they also need supervised time with livestock as well. Ideally, your LGD should be raised on a farm that has the same livestock as you. If you raise goats and chickens, then try to find a breeder who also raises goats and chickens. Consistency is key when getting a livestock guardian dog.
(As with all LGD training tips, there are exceptions. Our breeder did not raise chickens on his farm, but Leroy and Otis behave fairly well with our chicken despite their puppy status.)
Keep fencing consistent
Speaking of consistency, let's talk about fencing. Be sure to discuss what type of fencing (if any!) the breeder uses, and try to replicate the fencing on your farm if appropriate.
I made this mistake when we purchased Leroy and Otis. The breeder used metal fencing and allowed his dogs to jump up on the fence. We use electric poultry netting, which clearly leads to negative outcomes if a pup jumps on it. Within about 10 minutes of arriving home, Leroy touched the electric fence and somehow ran through the fence. My lovely husband had to chase him through fields, swamps, and barbed wire for miles until he finally caught him.
After the initial running away incident, both pups quickly learned to stay away from the fence. However, planning a bit better would have eased the transition. If you're getting a livestock guardian dog, then learn from my mistakes and remember these LGD training tips.
Training tools
Even though livestock guardian dogs have an instinctual desire to protect their livestock, they still require training. Puppies inevitably want to chase and play with chickens, which can lead to injuries or death. If you're getting a livestock guardian dog, then start off on the right foot by having a few training tools on hand:
Shock collar: We like to use shock collars that have the vibrate, beep, and shock functions. Depending on the breed of your LGD, you may need a collar with longer prongs to penetrate through thick fur. We use this collar, which works well for our two Great Pyrenees.
GPS tracker: In case your pup runs away or wanders, this GPS tracker is a handy tool. However, keep in mind that sometimes it looses signal, and then the app will mistakenly alert you that your dog left the invisible fence boundary lines. We frantically thought Otis can away at 5am one day, but quickly learned that the GPS simply lost signal for a few minutes.
Careful introduction to livestock
When it comes to introducing your LGD to livestock, there are a ton of different approaches. With that being said, the general rule of thumb is to slowly introduce your LGD in a supervised manner. Once your LGD consistently behaves appropriately around your animals, then slowly give them short periods of time alone. Ideally, still watch from a distance with your shock collar remote if you need to correct behavior.
Even though livestock guardian dogs generally have an innate desire to protect, giving them too much responsibly too soon can ultimately result in injuries and death within your herd. Be smart – when getting a livestock guardian dog, slow and steady wind the race.
Talk with other dog owners
This might be one of the most beneficial LGD training tips – talk to other LGD owners about their personal experiences and suggestions. My friend Chelsea at Parallel 45 Farm and Christina at Thermaland Oaks were so helpful!